Osteoporosis is a condition that makes bones more brittle and prone to fracture. Although osteoporosis can effect men and younger people, post-menopausal women are most at risk. One of the best ways to help maintain healthy bones is to exercise regularly – which encourages the bones to absorb calcium and other mineral salts that keep bones strong.
Weight bearing exercises and weight resisted exercises are best for strengthening bones and muscles and as well as helping to keep bones in good health may also reduce the likelihood of falls as you age. Weight bearing exercises are those where your body is supporting its own weight, such as walking or housework or carrying groceries. Weight resisted exercise involves pushing or pulling against an additional weight, like a dumbbell or barbell or resistance equipment in a gym.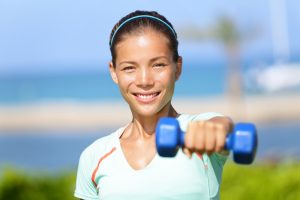 The younger you start, the better
Anyone can benefit from weight training but it has been demonstrated that younger women who trained using weights have stronger bones later in life, this essentially means that you can bank bone when you're younger to help prevent fractures later in life – a kind of insurance scheme for your body. A life time of active living not only protects your bones but also keeps your heart healthy and may protect you from other diseases such as cancer and type two diabetes.
But starting at any age will help
Everyone can benefit from increasing their activity levels. Studies have shown that people who have already been diagnosed with osteoporosis can improve their bone health significantly through weight bearing exercising, the key is getting good advice on how to move well and how to self- manage.
Some more benefits
Strong muscles burn more calories, so if you need to control your bodyweight, lifting weights can help. It also helps with balance and can help you to regulate your sleep patterns.
'I don't want to look muscled'
It takes women a lot of heavy weight lifting, and sometimes the use of controlled substances like steroids and hormones, to achieve the physique of the heavily muscled power lifter. Women don't normally have enough testosterone in their bodies to develop bulging muscles, but can, with regular, moderate training achieve lean, toned and strong muscles.
'I hate gyms'
No problem. There are plenty of other exercises you can do that don't involve a visit to the gym. Dancing, yoga, tennis, Pilates, walking, running, gardening and even housework count – all you are aiming to do is increase your heart rate and make yourself feel a little warmer. You can do it in several short blocks of 15 minute or more but aim for at least a total of 150 minutes per week over at least 5 days per week for the best results. If you're unused to exercise, start slowly and build up to this target.
I don't know where to start
This is where we, as osteopaths, can help. We can screen you for any health concerns that might affect your ability to exercise, help to resolve any injuries or pain that might be holding you back and advise you on what exercises might suit your goals best. WE can teach you how to exercise correctly, avoiding injuries and how to gradually build up as your ability and fitness levels improve.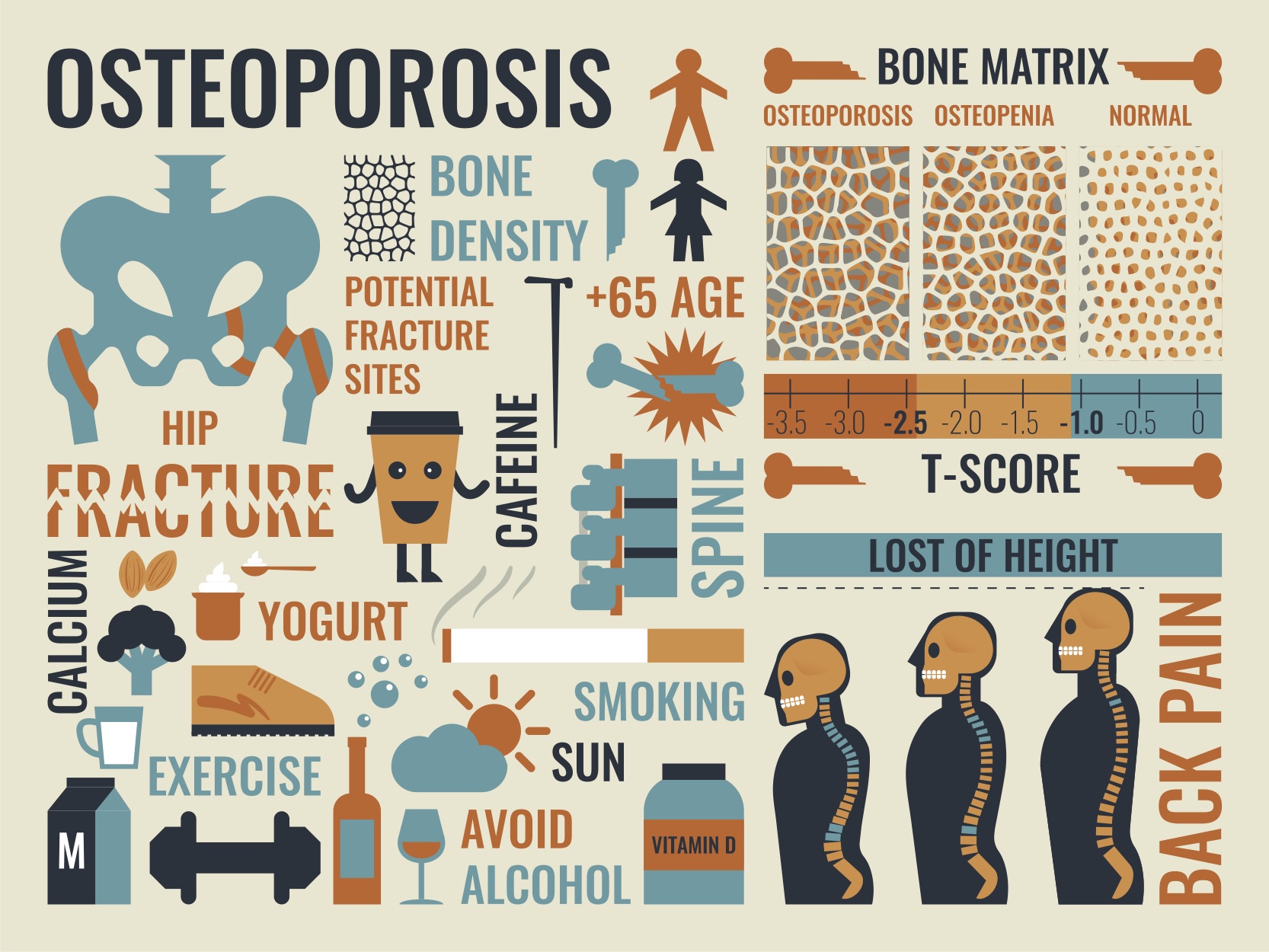 It is estimated that around 3 million people in the UK have osteoporosis. Osteoporosis is a condition in which the usually strong support struts that make up the inside of most bones becomes thinner, which can lead to bones becoming fragile and breaking easily, resulting in pain and disability.
In the UK, one in two women and one in five men over the age of 50 will fracture a bone, mainly due to poor bone health. But osteoporosis is often a silent condition, giving no pain or other symptoms to alert you to the fact until the worst happens and a bone breaks. As such, many people living with osteoporosis are unaware that they have fragile bones until this happens, sometimes with devastating consequences. Indeed an alarming new study published by the International Osteoporosis Foundation suggested that 37% of men that sustain an osteoporosis related hip fracture will die in the first year following the break.
Those that smoke or drink in excess of the recommended daily alcohol intake are at greater risk, but gender, genetics, age, race and low body weight are all contributing factors.
However, it's not all doom and gloom. There is a lot you can do to prevent the condition, and to reduce your chance of breaking a bone if you do get it. As osteopaths we can screen you for the condition using a special online screening tool called the FRAX questionnaire and can give you dietary, exercise and lifestyle advice to help manage your risk factors to reduce the impact of the condition on your lifestyle.
To find out more about the prevention, diagnosis and treatment of osteoporosis, contact the National Osteoporosis Society via their confidential helpline (0845 450 0230) or by visiting their website at: www.nos.org.uk
For appointments contact us at the relevant clinic.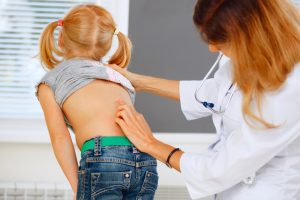 Like adults, children can suffer from back pain as a result of a variety of lifestyle activities.  And like adults, there are number of things that parents and carers can do to prevent issues arising.
If your child does complain of back pain, it is important to seek advice from qualified professional, such as an osteopath.  An osteopath will help to establish the cause of the problem and will provide advice on treatment, or refer you for further examinations if required.
Good school bags
Children are often required to carry bags full of books, PE kits, musical instruments and other equipment to and from school. Parents should try to limit the weight of school bags as much as possible and invest in a good quality back pack that the child should wear across both shoulders, ideally with a strap across the chest to keep the load close the their body. Packing the bag with the heaviest items (such as laptops and heavy books) closest to child's body, will also make carrying more comfortable and less likely to strain the muscles of the back.
Limit screen time
Looking down to use smart phones, tablets and laptops for an extended period can pull the back and neck into an unnatural posture, resulting in pain. Placing limits on the time spent using devices and encouraging regular breaks may help to avoid problems. If your child has to use a laptop for homework, consider purchasing a support that elevates the screen to a height that allows him or her to sit up straight to look at it.
Regular exercise
A sedentary lifestyle is known to contribute to the risk of developing back pain, as well as contributing to obesity. Regular physical activity helps to keep the core muscles that support the spine strong and maintain flexibility, which will help to avoid back pain. Encourage lots of active play, walking, running, swimming, cycling etc to keep your child fit and healthy.
The right bed and pillow
Good quality sleep is vital for both physical and mental development. Make sure that your child has a good sized comfortable bed with a firm mattress and a pillow that supports their head without lifting it too high.
Osteopathic Treatment for your child's back pain
Your child's back pain may benefit from osteopathic treatment.  Using gentle manual therapy an osteopath will help to resolve any stresses and strains that are affecting their body and relieve their pain. They can also provide lifestyle advice that may help to prevent the problem from coming back.
The Natural Health Centre
How to find us
Falkland Road is off the Andover Road in the Wash Common area of Newbury. The turning is at the side of the Total petrol station and opposite Park House School.
Contact
Telephone: 01635 580200
Email: info@nhcnewbury.co.uk
The Natural Health Centre
8 Falkland Road
Newbury
Berkshire
RG14 6NY
Contact Us
Telephone: 01672 541198
Email: info@kimburnett.co.uk
Home Practice
Beech Cottage
Aldbourne
Wiltshire
SN8 2EJ
Contact Us
Telephone: 01672 541198
Email: info@kimburnett.co.uk
Ramsbury Surgery
Whittonditch
Ramsbury
Wiltshire
SN8 2QT